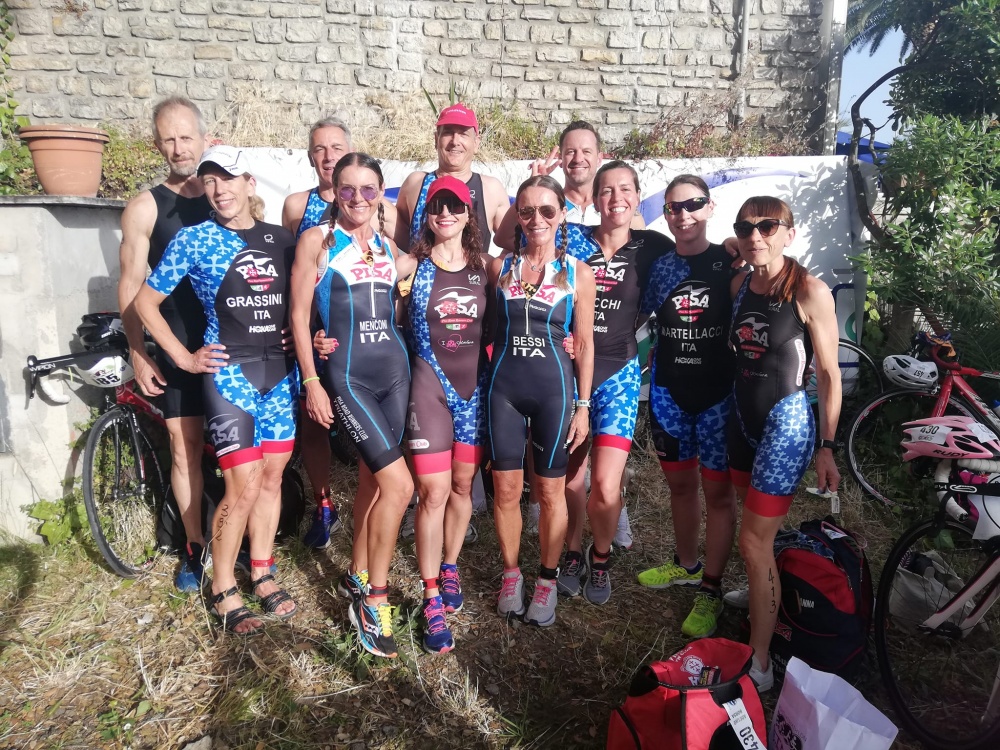 Night of Triathlon Marina di Massa: le 13 triaquile all'arrivo
04-06-2022 23:51 - Triathlon, Bike, Duathlon, Aquathlon, Nuoto per Tri, etc
Grande partecipazione all'edizione 2022 della the Night of Triathlon a Marina di Massa con quasi 500 partecipanti, ormai per il più importante triathlon sprint toscano che da due anni è anche sede del campionato ParaTriathlon.
Alle ore 20.30 il via della gara assoluta con splendida vista dal pontile che andava aggirato dai partecipanti per compiere i loro 750 metri natatori.
Al via 13 triaquile (7 donne e 6 maschi) con varie defaillance last minute per infortuni e problemi vari (saraà così anche sabato prossimo al triathlon olimpico di Bardolino).
Dopo l'uscita dalla spiaggia, e la lunga transizione, i 3 giri in bici al crepuscolo con le lucine sulle bici a dare spettacolo sul via vai per poi concludere la gara con due giri di corsa da 2,5 km passando sotto la ruota panoramica direzione La Spezia per intenderci.
Tra gli uomini molto bene Juri Mazzei in 1h06 che sta prendendo sempre più consapevolezza con la bici che sarebbe il suo punto più debole delle tre discipline visto che nasce nuotatore e va ormai benone a corsa. Quindi Claudio Coli in 1h12 poi seguito dagli altri. Bene Santaguida all'esordio sulla triplice con il team (aveva già fatto il duathlon di Pisa e ben si assesta in classifica di Coppa Toscana) Salvatici, Davini e Marini.
Tra le donne, nell'arco di qualche minuto Grassini, Saba, Menconi e Rocchi (superlativa nella frazione di nuoto come da aspettative) finalmente all'esordio e ufficialmente triathleta. Bene Martellacci e Bessi a podio con Saba.
A questo giro lo spettacolo lo hanno dato anche gli accompagnatori ed accompagantrici tifose!
Appuntamento sabato a Bardolino e domenica 26 a Barberino del Mugello.
Fonte:
Sezione Triathlon